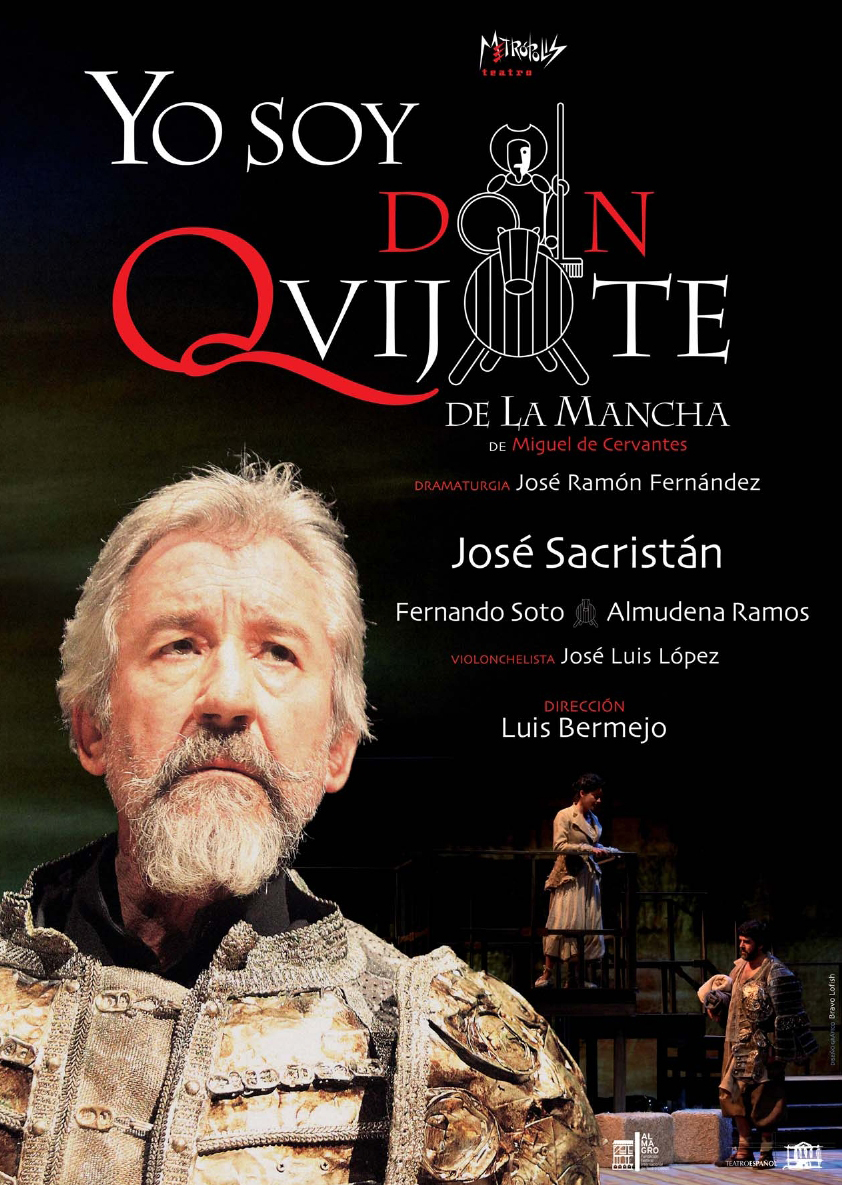 Yo soy Don Quijote de La Mancha (I am Don Quixote)
By Miguel de Cervantes
Dramaturgy: José Ramón Fernández
Address: Luis Bermejo
Scheduling:
JOSÉ SACRISTÁN as Don Quixote,
FERNANDO SOTO as Sancho Panza and
ALMUDENA RAMOS as Sanchica.
Live music composed by Ramiro Obedman and performed by cellist JOSÉ LUIS LÓPEZ.
Set design: Javier Aoiz
Set design assistant: Ángel Treviño
Wardrobe: Monica Boromello
Lighting: Juan Gómez-Cornejo/Ion Aníbal
Video: Álvaro Luna/Bruno Praena
Production: METRÓPOLIS TEATRO
National premiere: July 5, 2012 as the opening of the 35th International Clasical Theatre Festival, Almagro.
In Madrid, soon: Español Theatre, from November 15, 2012.
«Because we need to believe: that there are crazy people capable of dreaming that they can help others and that it is worth it; that there are sane people so clean that they are capable of helping those crazy people and end up dreaming like them. Thinking from La Mancha – this project was born in the thoughts of the director of the Almagro Festival – this universal adventure that shakes people from anywhere in the world. Follow the hallucinated Alonso Quijano as he looks at a world that in his head is ordered with old and beautiful words like loyalty, justice, and true love.
Don Quixote is a part of all of us. He is a member of our family whom we remember, whom we keep in mind, whom everyone looks upon with pity and treats with a kind of sweet affection. He is part of the best of us, of our good side. José Sacristán also has a small place in our sentimental memory, in our memories, from some far away to others very, very recent. He asks us to help him to look for goodness. That we help him to be Don Quixote.
I pretend that I am Don Quixote of La Mancha breathe and remember that Don Quixote that is part of our memory and our desires. That is why I do not distance myself from history, that is why I am going to use thousands of words from this book and I am going to try to make mine serve to unite those memories that unite us all. Thus, our project is to show that character again in its essence, in its most significant moments. To do this, in order to be able to say "I know who I am", Don Quixote will have the company of Sancho and his daughter Sanchica: two people without evil, capable of seeing in Don Quixote the madman and the good man, capable of understanding that the world needs Don Quixote. Without a doubt: we need Don Quixote».
José Ramón Fernández, winner of  2011 National Dramatic Literatura Award
«In this time of disenchantment, social breakdown, loss of moral values, injustice, disbelief, depression, recession, citizen perplexity… in this era, I say, we must call on our hero to restore our honor and help us unmask the merchants of dreams who oppress us with their greedy desires.
We have a hero that underlies each one of us, like an intimate filigree: Don Quixote.
(…) We need to believe that it is possible to recover our honor, so our hero proposes us this new journey, this new adventure, and we are going to inhabit it with the intention of extracting from its interior the theme that moves us, that obsesses us: the desire for goodness, justice, solidarity, to raise love above men».
Luis Bermejo
A Metrópolis Teatro production
Posters, sketches, model [by Ángel Treviño] and photograhs [Álvaro Luna – Guillermo Casas – Eva Frutos]:
This post is also available in: Español (Spanish)