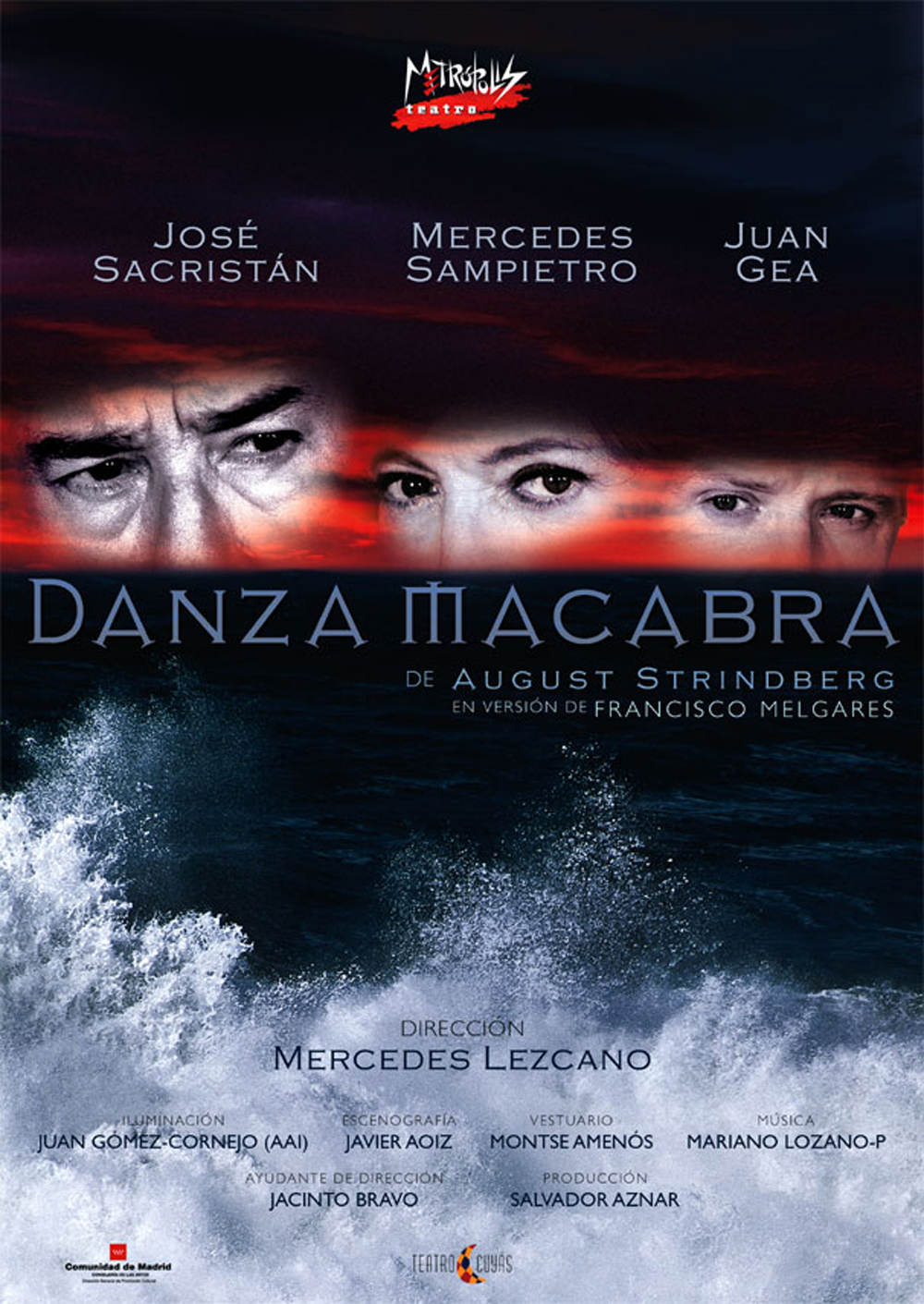 THE DANCE OF DEATH
By August Strindberg
Francisco Melgares' version.
Directed by Mercedes Lezcano
Starring:
José Sacristán as Edgar,
Mercedes Sampietro as Alicia, and
Juan Gea as Kurt
It was premiered on 15 November at the Torrelodones Bulevar Theatre, as a part of the 20th Autonomous Region of Madrid Autumn Festival. During the month of March 2004 it was performed in the Teatro Albéniz, Madrid, continuing the tour until June 30, 2004.
"The Dance od Death" is a great work by an exceptional author: Strindberg. He was a tormented man of extraordinary talent; one of the greatest playwrights in universal theatre. It is a violent, expressionist play with a sarcastic humour that allows a very interesting work with the actors. In "The Dance od Death" we observe that world that expresses the continuous crisis of the individual. It is the hell of a marriage, Edgar and Alicia, that has been together for twenty-five years. Strindberg remains neutral between the two spouses, and Kurt, the third protagonist, is full of understanding for the unfortunate spouses. The spouses are two people who live on an island on the fringes of society, who do not relate to each other, who are not accepted by their surroundings. It is a marriage of two failures: he, unable to get a promotion in the army, and she, forgotten by all, abandoned a very modest theatrical career.
After twenty-five years in common, they have nothing to say to each other. Only reproaches. They are dead. A third character, Kurt, comes to visit them and his presence is welcomed at the beginning: he is a breath of life in this cemetery. Each of the couple finds in him a person to whom they can confide their anguish. This hell drags Kurt relentlessly along, wrapped up against his will in that whirlpool of misery. The macabre game that both husbands play to attract Kurt keeps them alive and united. This game is their reason for existing. They need each other, they are made for each other. For Strindberg, the misfortunes of marriage are another expression of life's imperfection. The struggle to the death between man and woman is a manifestation of the insane relationship between human beings. This is the macabre game – unfortunately so prevalent at all times – for the control of power.
A Metrópolis Teatro production
Photographs: Ros Ribas
POSTER, SCENERY AND PHOTOS:
This post is also available in: Español (Spanish)