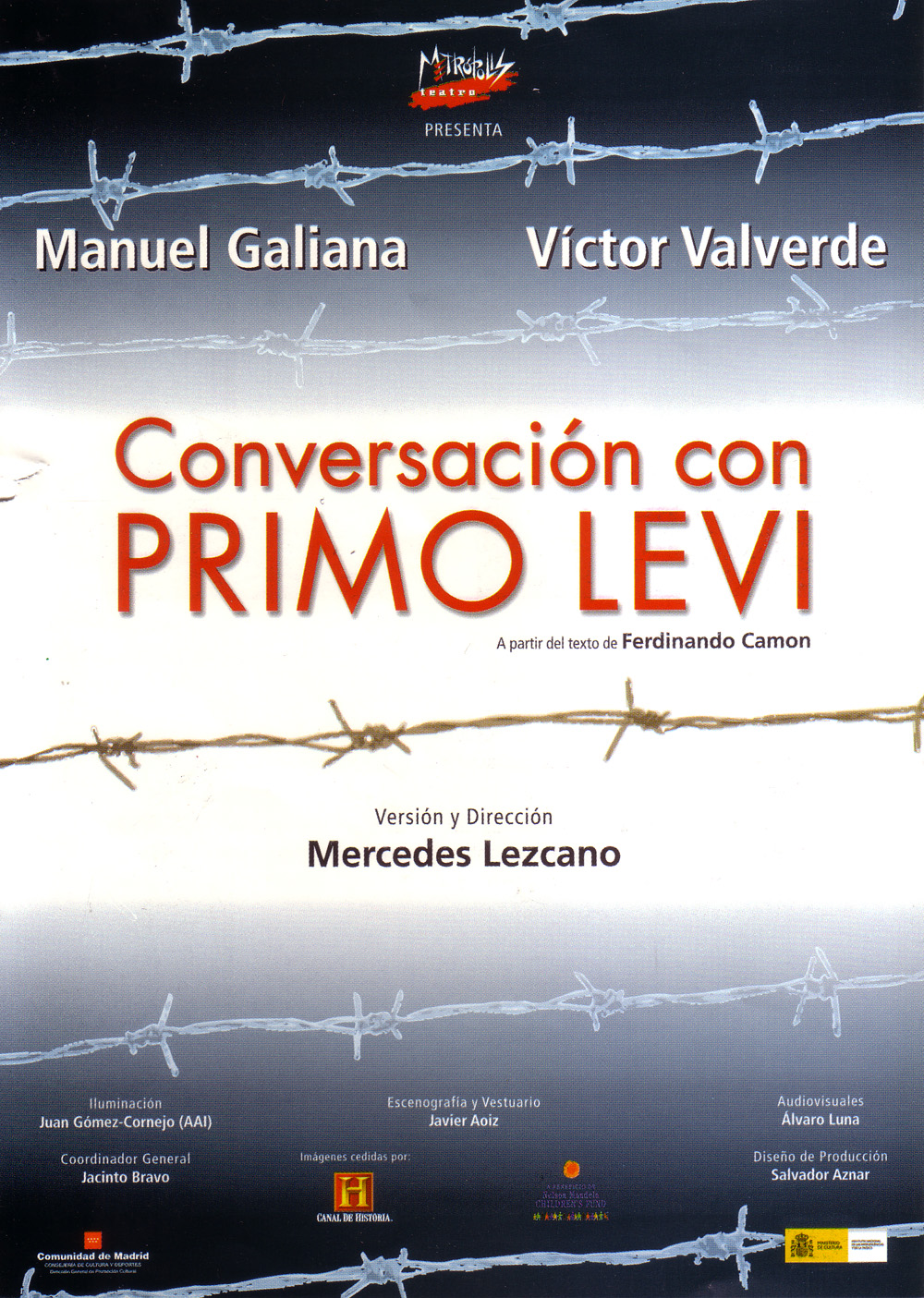 Conversation with Primo Levi
By Ferdinando Camon
Mercedes Lezcano's version.
Directed by Mercedes Lezcano
Starring:
Manuel Galiana as Primo Levi, and
Victor Valverde as Ferdinando Camon
Voice-over: Teresa del Olmo
Scenography and costumes: Javier Aoiz
Lighting: Juan Gómez-Cornejo
Audiovisuals: Álvaro Luna
With the collaboration of Canal de Historia
To benefit Nelson Mandela Children Found
Premiered on May 25, 2005 at the Juan Bravo Theater in Segovia. It was on tour until January 2007.
"If we die in silence, as our enemies wish, the world will not know what man has been able to do and what he can still do: the world will not know itself".
These words of Primo Levi place us fully in our show, in the heart of what we want to tell: in 1986, a few months before the Jewish writer died, there was an interview between him and the Catholic writer Ferdinando Camon. In this conversation they investigate, among other things, the "guilt" – German guilt, the guilt of being Jewish, the guilt of Israel – and we remember the barbarity of the Nazi holocaust and discover how those who do not learn from History are condemned to repeat it.
"Conversation with Primo Levi" is an exciting, beautiful and stimulating dialogue between two intelligent writers, committed to their time, who transport us into the darkest and most aberrant depths of the human being. A must-see show for all those who are still alive.
A Metrópolis Teatro production
Photographs: Chicho
POSTER, SCENERY, COSTUMES AND PHOTOS:
This post is also available in: Español (Spanish)