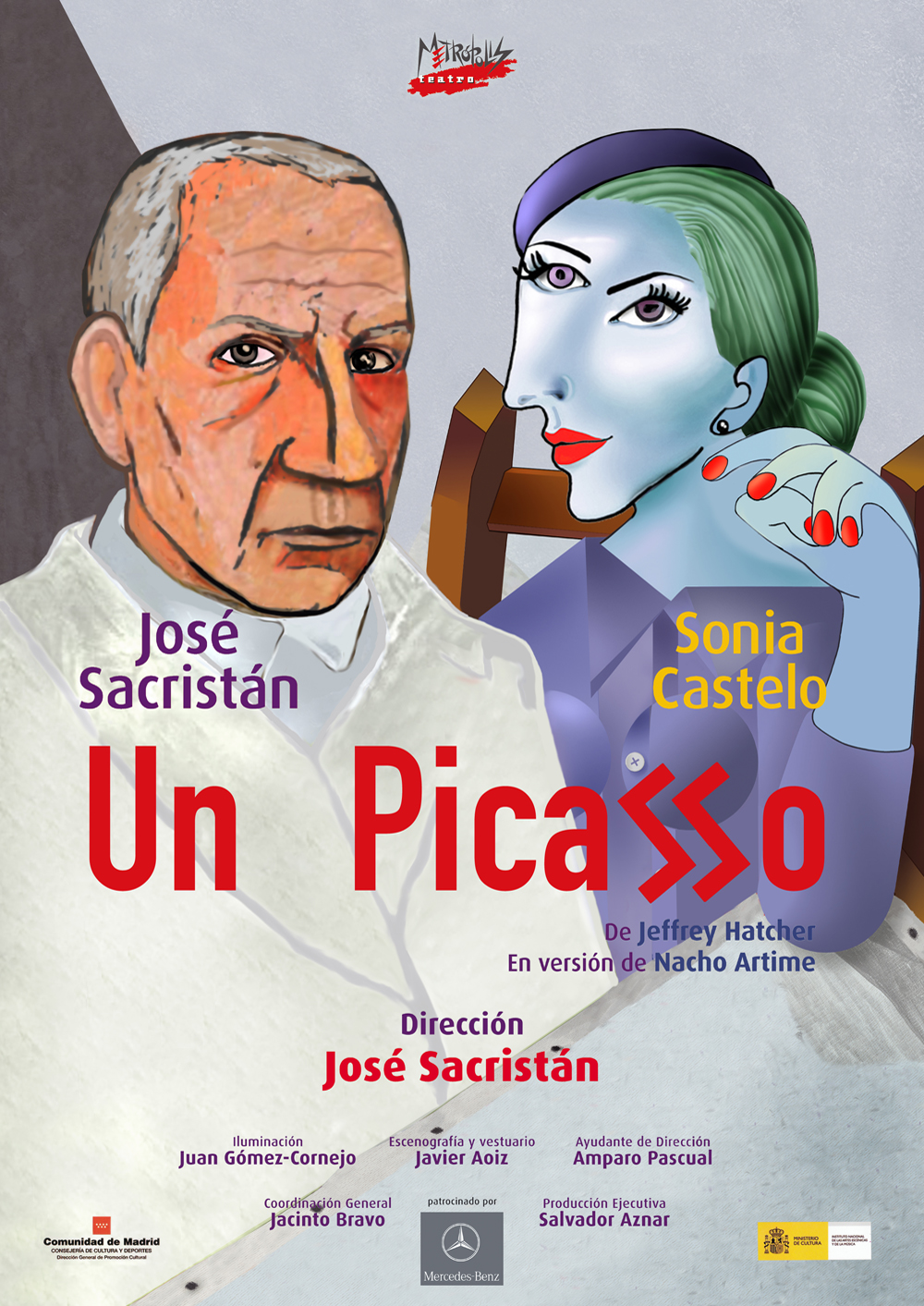 A Picasso
By Jeffrey Hatcher
Nacho Artime's version.
Directed by José Sacristán
Starring:
José Sacristán as Pablo Picasso, and
Ana Labordeta / Sonia Castelo as Miss Fischer
Best Scenography Award at the 28th Palencia Theatre Festival
Premiered on 30 January 2007 at the Teatro Cervantes in Malaga, as part of the International Theatre Festival, it remained on tour until March 2008.
"A Picasso" is based on a real event, although everything we see and hear on stage was "probably" invented by the American writer Jeffrey Hatcher's talent.
In fact, it is known that during the infamous Nazi occupation of Paris, one day Picasso was "arrested" outside the restaurant "Les Catalans" – where he used to eat and have social gatherings with his friends – by some German soldiers. The painter was taken to a basement to be interrogated by an official of the Ministry of Culture in order to have him recognize and certify that three of his paintings are authentic. It was 1941 and the genius of Picasso – who turned 60 the next day – was not only universally recognized but profusely imitated.
The author starts from that fact to show us an amusing and suggestive chase and hunting of the cat and mouse to survive and save his works. Truth and lie, art and politics, culture and consumption, are being analyzed by two points of view as incompatible as they are enlightening. In the text, there is humour, poetry, theatricality and a magnificent vehicle so that, passing through different shades of meaning, two actors shine in all their splendour, and also for the Picasso's world, his childhood and his well-known way of being, to reach and approach the new spectators. This work by the unknown author in Spain, but which has already been successful for a long time all over the world, won the famous Barrymore Prize when it was premiered worldwide in Philadelphia. It then moved to Broadway and endorsed its success at the prestigious Manhattan Theatre Club. And now it is making its way into numerous languages around the world.
This was the world premiere in Spanish.
A Metrópolis Teatro production
Photographs: Chicho
POSTER, SCENERY, COSTUMES, PAINTINGS AND PHOTOS:
This post is also available in: Español (Spanish)